Sun Dec 3rd 2023
After a very busy couple of weeks, it's time for us to turn our focus to having trees for you in 2024. Unfortunately we need to close for the year at this time. We apologize to those that weren't able to cut a tree with us.
We want to thank everyone for your support and hope you all have a wonderful holiday. All the best, Conley Tree Farm.
2023 Trees
Trees 101
At The Conley Tree Farm we pride ourselves on the quality of our Christmas Trees.
Currently we offer Balsam Fir, Fraser Fir trees, Canaan Fir and Fralsams.
Per the USDA, the minimum handle length is 6".
The handle length is not to exceed 1.5" per foot.
The entire farm is basal pruned.
Cutting should be done at least 6" below the bottom whorl of branches.
Balsam Fir
The Balsam Fir is native to the North East. The tree has a dark green appearance and is known for its pleasing fragrance which it retains throughout the Christmas season.
Fraser Fir
The Fraser Fir branches turn slightly upward and are very strong which is excellent for heavy ornaments. Fraser Fir needle retention is excellent and they have a bit of a blue tint to the underside of the needles.
Canaan Fir
The Canaan Fir is sometimes known as the West Virginia Balsam Fir. The tree is very similar to the Balsam Fir but it thrives in cooler climates and is more resistant to spring frost injury due to its tendency to break bud late.
Fralsam Fir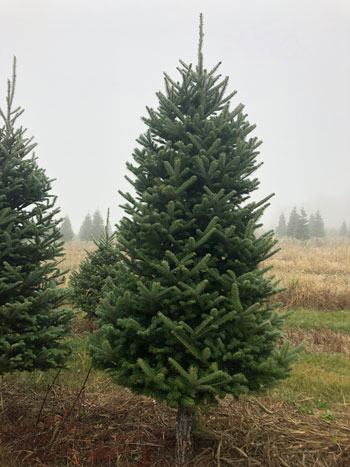 The Fralsam Fir is a hybrid cross developed by Weir Tree Farms in Colebrook NH. This hybrid incorporates the best characteristics of its parent trees, the Balsam and the Fraser, into one outstanding tree. The Fralsam produces 10% to 20% more buds than its parent trees; therefore it fills out to be a very full tree with dense needle cover.